From our staff
Calf care and rearing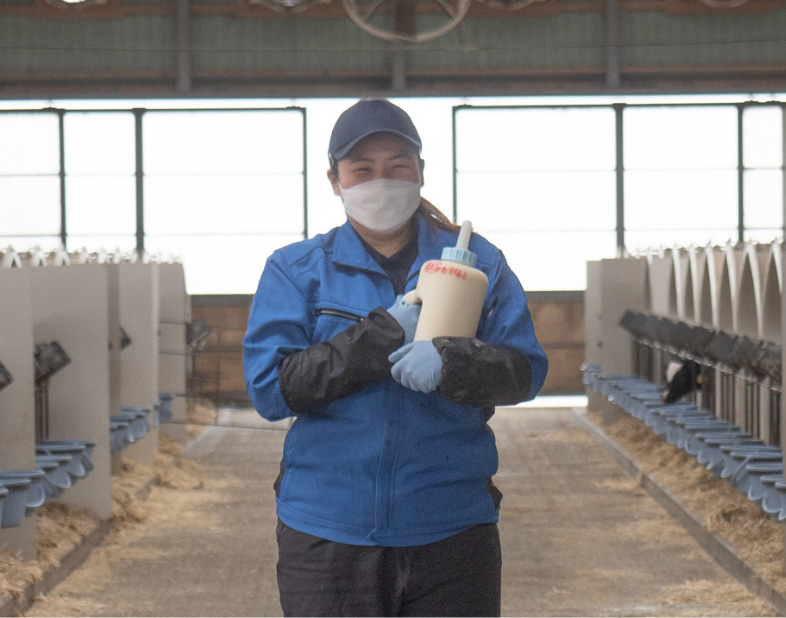 Baby cows are so adorable! I'm from Osaka, far from Hokkaido, with no dairy farm experience. This job is "pretty good" compared to the image of dairy jobs I had before.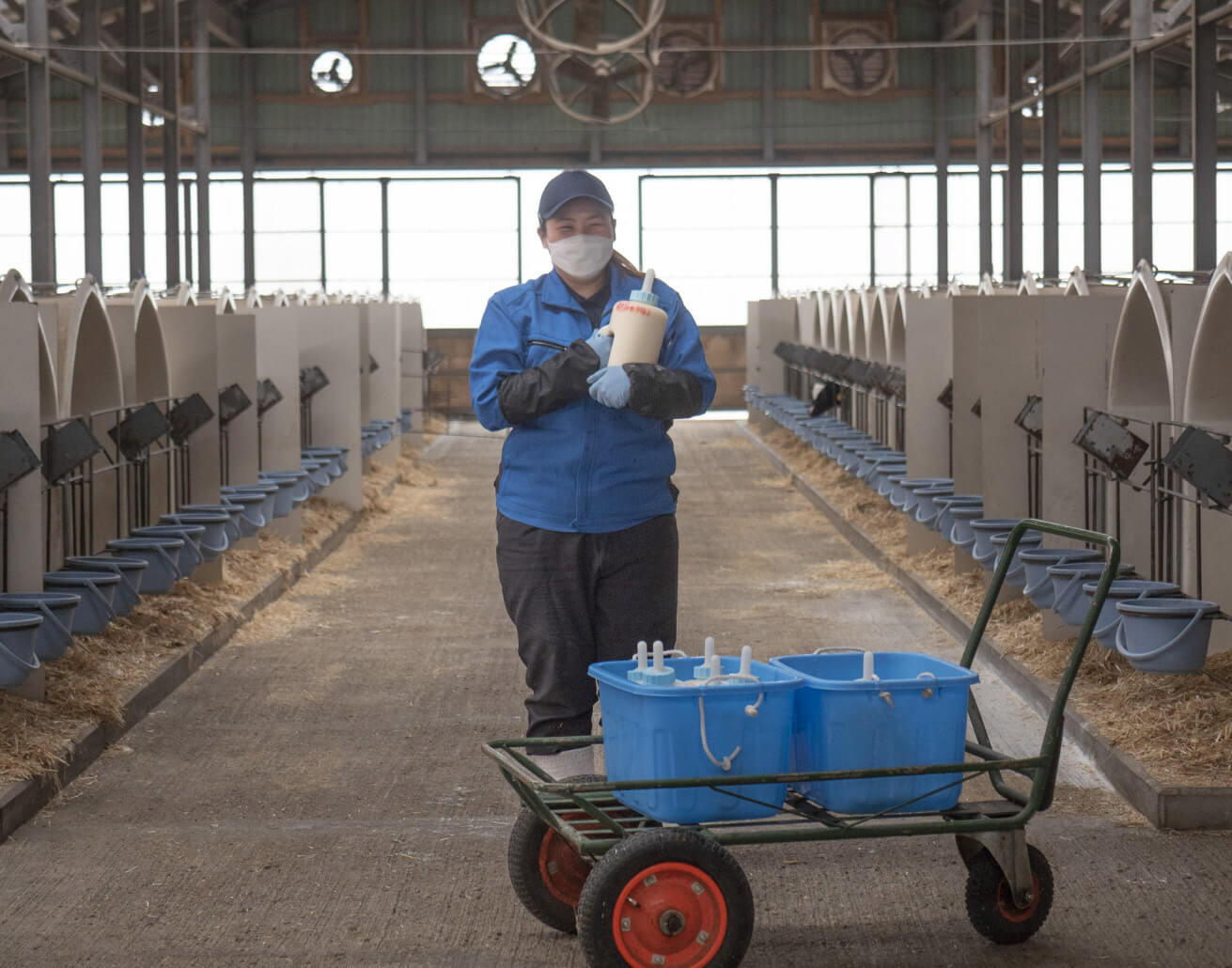 Since I love animals
with no prior experience I took the leap.
I am from Osaka and wanted to work on a farm, so I found a job site on the Internet that said "no experience necessary" and came here in September 2021. I have always loved animals and wanted to do something related to them.
Yes, we do have dairy farms in my area, but I thought to myself, "When you think of ranches, you think of Hokkaido!". One of my classmates said to me, "What on earth are you going to Hokkaido?!" (Laughs)
I had no farm experience, but now all I can say is how cute the baby cows are.
Work environment is better than I expected. No overtime work.

Arriving the farm early in the morning, I prepare milk for newborn calves. I wash bottles and mix the milk. I clean stalls and change water. When they become 10-days old, we give them hay.

After a year, I now think this job is a bit better than I expected.

I arrive here around 5 a.m. and the morning job ends around 9:30 a.m.. After that is a long break. Sometimes I go back home to eat, clean up rooms, etc. I occasionally go to Obihiro for a bit of fun during the break. Work resumes around 3 p.m. and ends around 5. Overtime work at night is very rare.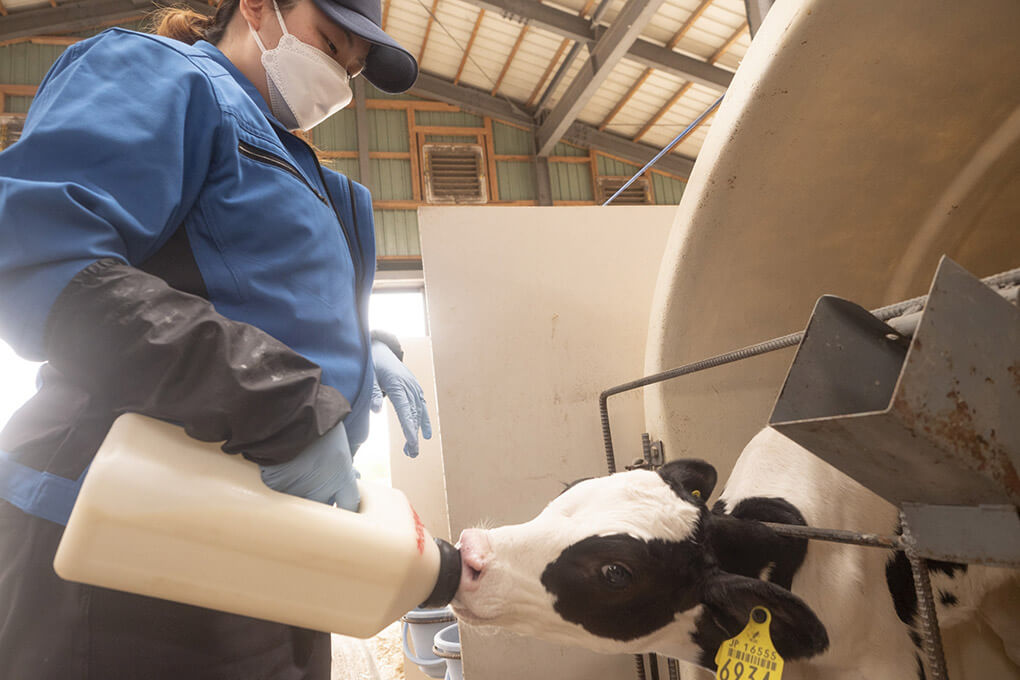 The calves are so adorable and make me feel good.

Calves are fed milk from a bottle. Larger calves are fed powdered milk, while smaller calves are fed a mixture of their mother's colostrum.

They drink 3 liters of milk a day, split between morning and noon.

It takes a while for the little ones to drink, but I can forgive them because they are so cute. (Laughs)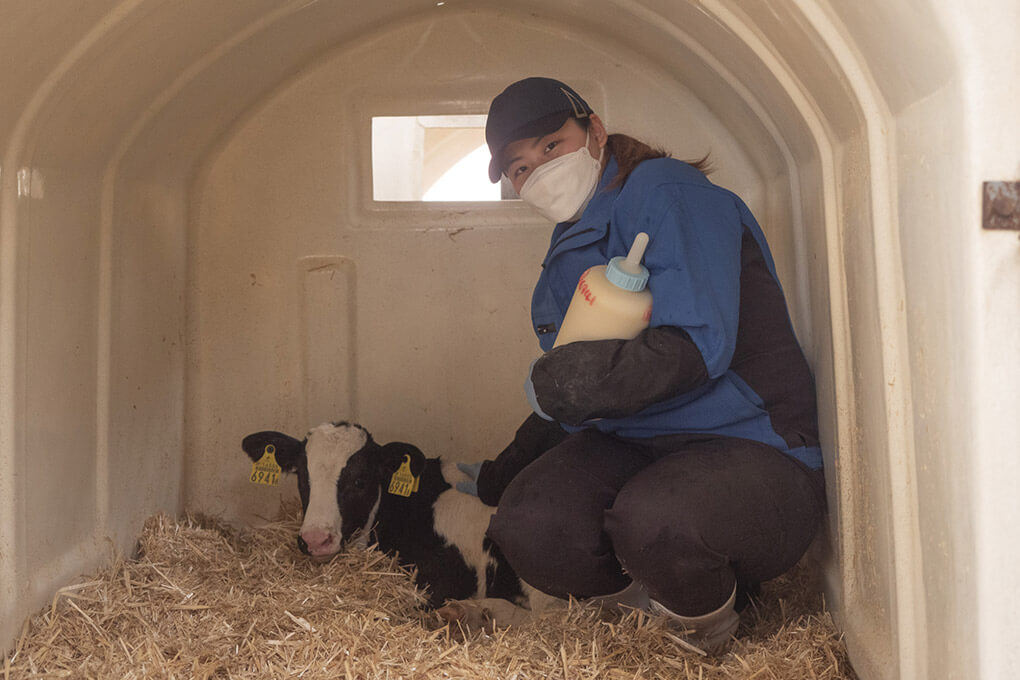 Application Requirements
Job Description

Tasks such as calf care and rearing, collecting left-over cattle feed etc.
Working as a team with others.

To be more specific, farm staff jobs include:

Caretakers
Milking
Dairy cow care
Calf care
Jobs around the farm

We want people like…

Persons with no dairy experience are very welcome!
Any age/educational background
Can do simple tasks, and don't need to be very good at Japanese.
Non Hokkaido residents are welcome!
Valid ordinary driver's license required (Automatic-only license accepted)
NOT required for international applicants.

Work location
158-1 Bansei, Taiki-cho, Hiro'o-gun, Hokkaido,
Japan
There are no transfers.
We have company dormitories very close to the company building.
Public housing and private apartments are also available.
Commuting by car is possible (free parking available).
Salary

200,000 – 350,000 yen per month.


【Yearly income example】
4.5 million yen per year (After 2 years of employment/ age:35/ monthly salary 230,000 yen + allowances)
Work hours
5:30~19:30 (Actual work: 8 hrs / Break: 6 hrs)

You're free to spend your breaks however you want! No need to stay on the farm.
Holidays and vacations
6 holidays in 4 weeks. (shift system)
Paid holidays
◎Total of 79 days off per year
Treatment and Benefits

Complete social insurance
Salary increase available every two years. (as of 2022)
Bonus: 2 times a year. (depends on the company performance / *two-month worth salary as of 2022)
Company apartments and dormitories available.(Cooking utensils provided upon request)
Work clothes provided.
Paid overtime work.
No trial period.